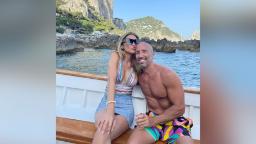 O casal tornou seu relacionamento oficial no Instagram, com fotos de uma recente viagem à Itália.
Oppenheim falou na quarta-feira sobre um novo romance para a Us Weekly, dizendo: "Eu realmente me importo com ela e somos muito felizes juntos."
O irmão gêmeo de Jason, Brett Oppenheim, que também aparece na série de sucesso da Netflix, comentou no Instagram: "Eu te amo Chrishell. Obrigado por fazer meu irmão feliz. "
Os irmãos são co-proprietários do The Oppenheim Group, uma empresa imobiliária com sede em Los Angeles. Stause é um corretor imobiliário da empresa.
Stause foi casado anteriormente com Justin Hartley, estrela de "This is Us". Após um divórcio em um reality show, Stause começou a competir no "Dancing with the Stars". Afinal, ela teve um breve caso com Keo Motsepe, um dançarino do show.
Todo o elenco de "Selling Sunset" pode ser visto em várias fotos de seu encontro na Itália, então talvez na próxima temporada possamos sentar na primeira fila desse romance promissor.