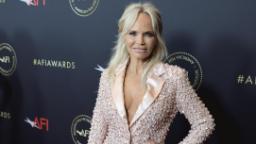 Em um trailer do documentário "Keeper of the Ashes: The Oklahoma Girl Scout Murders", a atriz vencedora do Tony Award revelou que estava prestes a fazer um acampamento onde três de suas amigas foram assediadas sexualmente e assassinadas em 1977.
"Eu gostaria de ter que contar essa história", diz Chenoweth no trailer. "Isso me assombra todos os dias."
Chenoweth retornou ao seu estado natal para participar da re-investigação dos assassinatos de Lori Lee Farmer, 8 anos, Michele Heather Guse, 9 anos, e Doris Denise Milner, 10 anos em Camp Scott perto de Locust Grove, Oklahoma.
No trailer, a atriz explica o quanto ela gostava de ir ao acampamento como escoteira e como ela via os membros do esquadrão como suas "irmãs".
"Nunca pensei que algo ruim pudesse acontecer", diz ela. "Mas estou aqui para descobrir qual foi o assassinato."
A polícia prendeu um homem local, Gene Leroy Hart, e o acusou do crime.
Segundo um artigo de S. No Petersburg Times, Hart foi absolvido das acusações, mas voltou para a prisão, onde continuou cumprindo sentenças por estupro, sequestro e roubo resultantes de outras condenações anteriores.
Supostamente ele morreu na prisão em 1979.
Os documentos incluirão uma investigação de DNA retirado da cena do crime para finalmente identificar o assassino.
"Não há fechamento", diz Chenoweth. "Não há nenhum laço vermelho bonito no final."
Keeper of the Ashes: The Oklahoma Girl Scout Murders estreia em 24 de maio no Hulu.