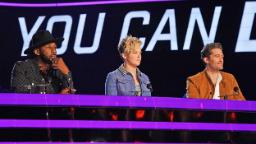 Um espectador do Twitter escreveu que estava desapontado por Matthew Morrison estar deixando o show como juiz em vez de Gray, citando a experiência de Morrison na Broadway.
Siwa viu a mensagem, encaminhou e escreveu "literalmente, por que twittar?" Ela também acrescentou um currículo impressionante, escrevendo: "18 anos de conhecimento de dança, 4 grandes programas de dança na TV, contratei mais de 1.000 dançarinos, 16 vídeos de dança".
Ela acrescentou: "Se você não gosta de mim, tudo bem … mas se você acha que eu não sei dançar, você parece bobo".
Siwa ficou famosa quando criança depois de se apresentar em "Abby's Ultimate Dance Competition" e "Dance Moms" ao lado de sua mãe Jessalynn. Desde então, ela saiu em turnê e acumulou milhões de seguidores. Ela ficou em segundo lugar na 30ª temporada de "Dancing With the Stars".
Siwa está no júri do "SYTYCD" junto com Stephen "tWitch" Boss, e apresentado por Cat Deeley.