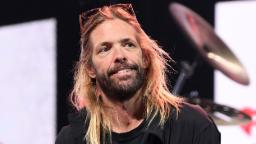 "Para nosso querido amigo, nosso companheiro de banda, nosso amado irmão… Foo Fighters e a família Hawkins trazem a vocês os shows Taylor Hawkins Tribute", anunciou a banda na quarta-feira em um post em sua conta oficial do Instagram.
Os shows serão realizados com outros membros do grupo – Dave Grohl, Nate Mendel, Chris Shiflett, Pat Smear e Rami Jaffee – no dia 3 de setembro no Wembley Stadium de Londres e no dia 27 de setembro no Kia Forum em Los Angeles.
A banda se uniu à família Hawkins para os shows.
A esposa de Hawkins, Alison Hawkins, postou uma mensagem de fã na conta do Instagram do marido, que coincide com o anúncio dos shows de homenagem.
"Meus mais profundos agradecimentos e admiração vão para a comunidade global do Foo Fighters e para os fãs de Taylor em todo o mundo pela demonstração de amor que cada um de vocês mostrou à nossa amada Taylor. Sua bondade tem sido um consolo inestimável para minha família e para mim durante este período de tristeza inimaginável", lemos em parte.
Hawkins, de 50 anos, morreu em 25 de março em Bogotá, Colômbia, horas antes da programação do Foo Fighters para a cena do Festival Estereo Picnic. A banda imediatamente cancelou os shows restantes.
Hawkins se juntou ao Foo Fighters em 1997, fazendo sua primeira aparição com a banda na turnê de divulgação de seu segundo álbum, "The Color and the Shape".