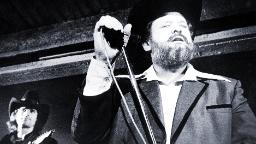 "A história da Band começou com Ronnie Hawkins. Ele foi nosso mentor. Ele nos ensinou as regras da estrada", lemos no post.
De acordo com o site da banda, Hawkins nasceu no Arkansas, mas chamava o Canadá de sua casa. Ele era um membro do grupo Ronnie Hawkins & The Hawks, que chegou à fama no início dos anos 1960.
"Sam Hawkins foi praticamente a resposta de Toronto a Elvis Presley", disse The Band em seu site.
Roberston disse no Facebook: "Ronnie era um padrinho. Aquele que fez tudo acontecer. Ele nos fez praticar constantemente até as primeiras horas da manhã. "
"Depois que os Hawks deixaram Ron e saíram por conta própria, nos juntamos a Bob Dylan. Depois os Hawks viraram The Band e o resto é história, dizem eles", concluiu Robertson. "Tudo começa com Ronnie Hawkins."
Robertson disse: "Ele não era apenas um grande artista, grande intérprete e líder de banda, ele também tinha um estilo de humor incomparável. Uma queda divertida e totalmente original. Sim, Deus fez apenas um deles. E viverá para sempre em nossos corações. "
Robertson não compartilhou a causa da morte.